We are living through difficult times, and everyone is affected in a significant way. Aviation has been hit hard by the coronavirus. Many of us aviators are grounded all around the world. Yes, including myself and all the other pilots in CloudAhoy.
To keep the aviation spirit during this time, we decided to do something special.
We are opening CloudAhoy Pro for everybody for 30 days.
Debrief and relive your past flights!
During this time many of us cannot fly in the sky, but we can be engaged in flying by other ways. One way is to relive past flights- for fun, for learning, or to share.
Coupon: PILOTSFLY
        – 30 days of CloudAhoy Pro –
        – Applies to everybody – 
To relive your past flights  – 
You can debrief any flight already in your CloudAhoy account  – look at the Flights tab.
You can import flights into CloudAhoy from your SD card – G1000/3000, Avidyne, etc.,
You can import  track logs from ForeFlight, Garmin Pilot, and many more.
See https://help.cloudahoy.com/importing-flight-data
The coupon PILOTSFLY can be used by everybody (except organization users) to get 30 days of CloudAhoy Pro. Expiration date of current subscribers will be extended. It will also be applied if you purchase or renew now – and a very special Thank You for doing that!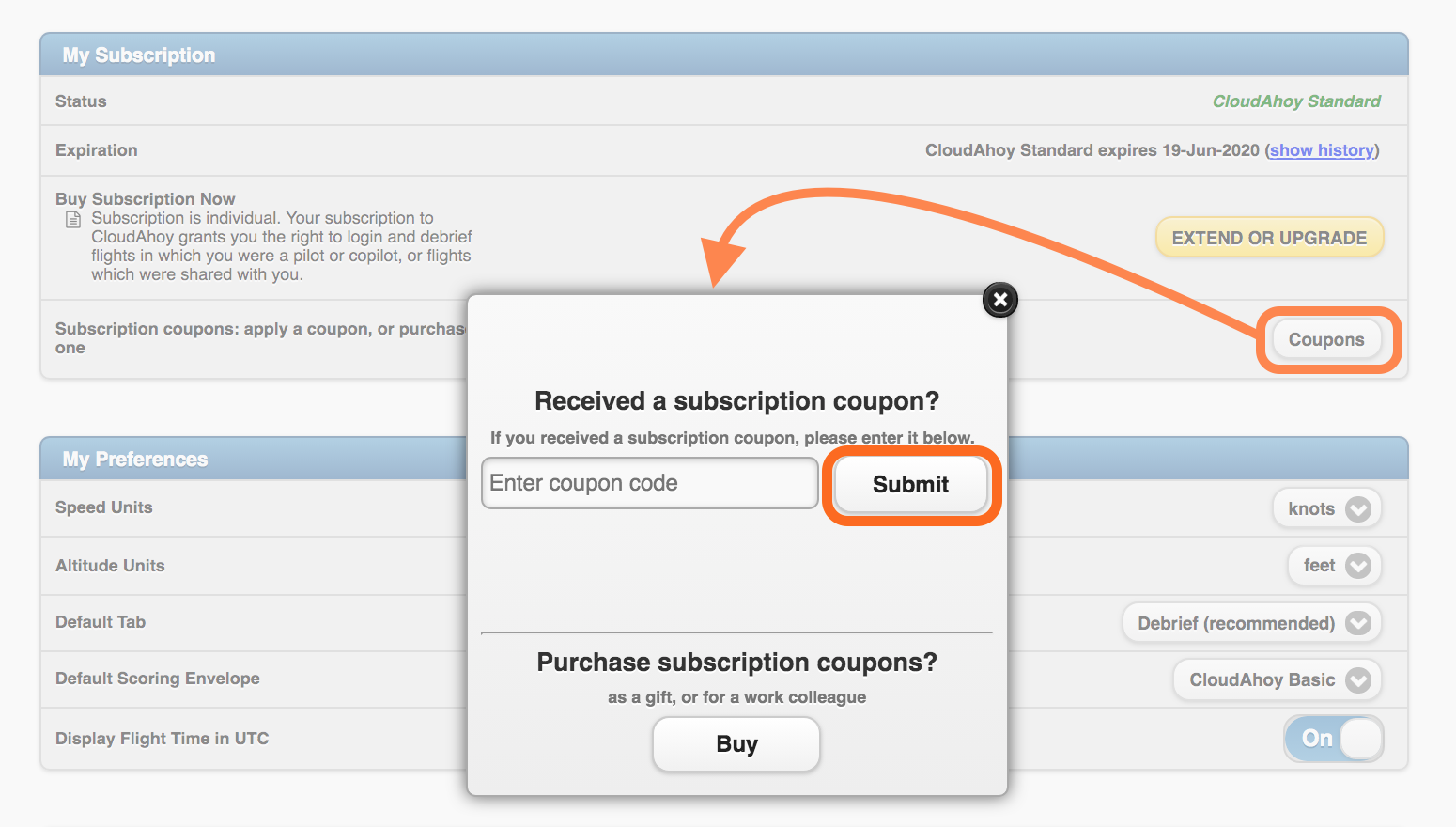 To use the coupon – 
– Login to your CloudAhoy account on
the web (not from the iOS app!)
– Go to the Account tab
– Scroll down to the "My Subscription"
section
– Click or tap on the "Coupons" button
⇒ a dialog box will appear
– Enter coupon code: PILOTSFLY
– Click the "Submit" button
Detailed instructions in https://help.cloudahoy.com/subscription-coupon
On behalf of the CloudAhoy team I would like to thank everybody who purchased CloudAhoy in the last few weeks, your support is even more important than ever.  Enjoy the extra 30 days with the coupon.
To all our users wherever you are all over the globe – stay safe!  Hope the PILOTSFLY coupon will give you moments of aviation-joy.
See you back in the air soon!
Chuck Shavit
and the CloudAhoy team
cloudahoy.com