In the latest version of CloudAhoy you can see the terrain and the aircraft's altitude AGL (Above Ground Level).
Terrain and AGL are shown in the Flight Graphs and Segment Info views which display altitude. AGL data is also used for scoring maneuvers in which the AGL is important.
* This feature is available in CloudAhoy Standard and in CloudAhoy Pro.
A picture is worth a thousand words – here are a few examples as some members of CloudAhoy team relive their past flights.  
---
Over the Grand Canyon
Aircraft: SR22

Flight data:  CloudAhoy App 

Pilot: Chuck Shavit. Flown in Mike's plane (with Mike in the right seat)
"Memorable flight over the Grand Canyon, as a guest of a long-time user."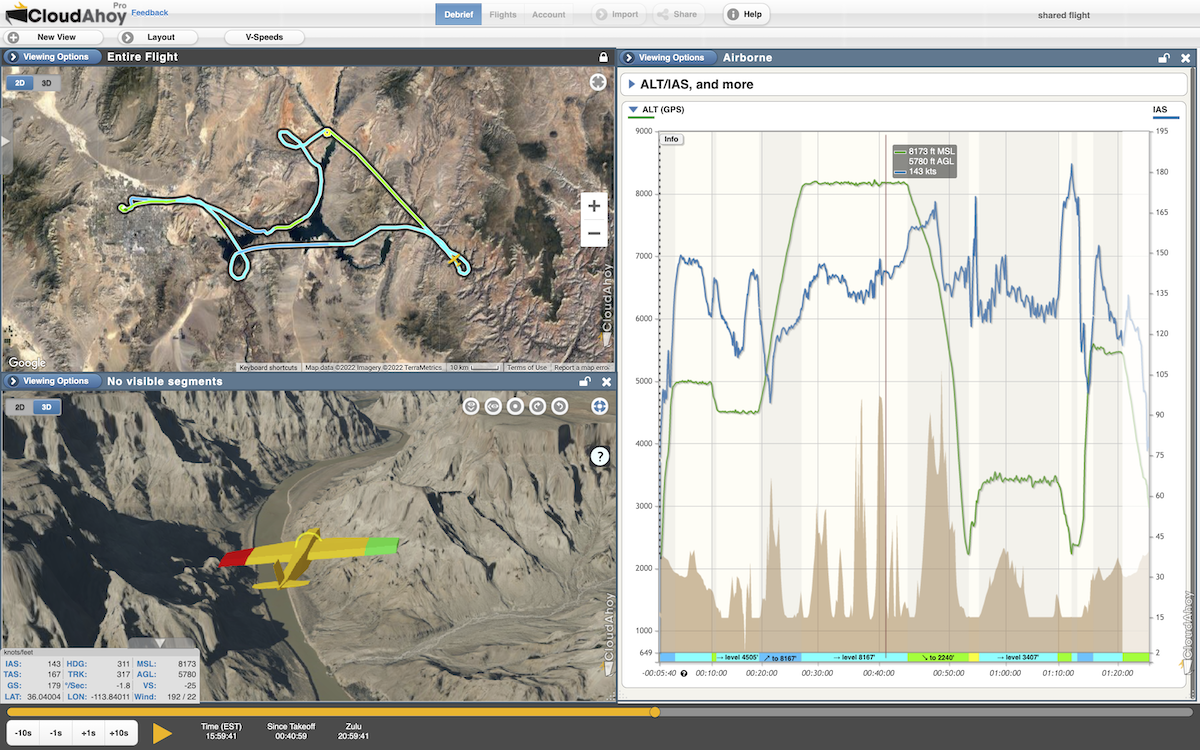 ---
Engine failure over the mountains 
Aircraft: C182

Flight data:  Foreflight with Stratus

Pilot: Kate Matteson
"I lost my C182 engine shortly after departure from KLEB in New Hampshire while flying solo. All the training in the world doesn't prepare you for a real, single pilot engine out experience over mountainous terrain! The green line on CloudAhoy's ALT/IAS graph shows I descended to 759 AGL before successfully restarting my engine, returning to the airport, and safely landing on RWY 36. Whew! Having the terrain/AGL makes the debrief extra meaningful."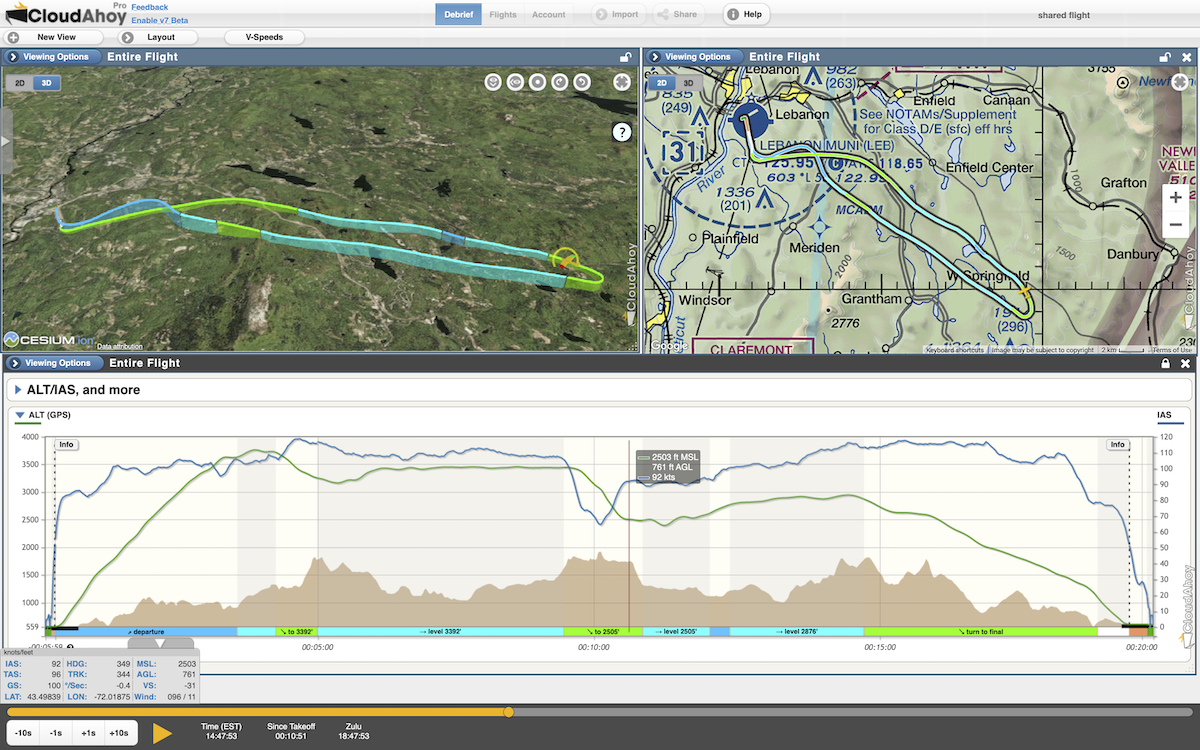 ---
Crossing the Alps
Aircraft: DA42

Flight data:  G1000

Pilot: Markus Rex
Notice the IAS graph (blue): it becomes unstable as Markus crosses the alps (the brown graph). Mountain waves cause turbulence and significant variations in airspeed. At the time shown, the headwind was 68 knots.  Insightful to see the correlation between fluctuation of IAS and the peaks of the mountains!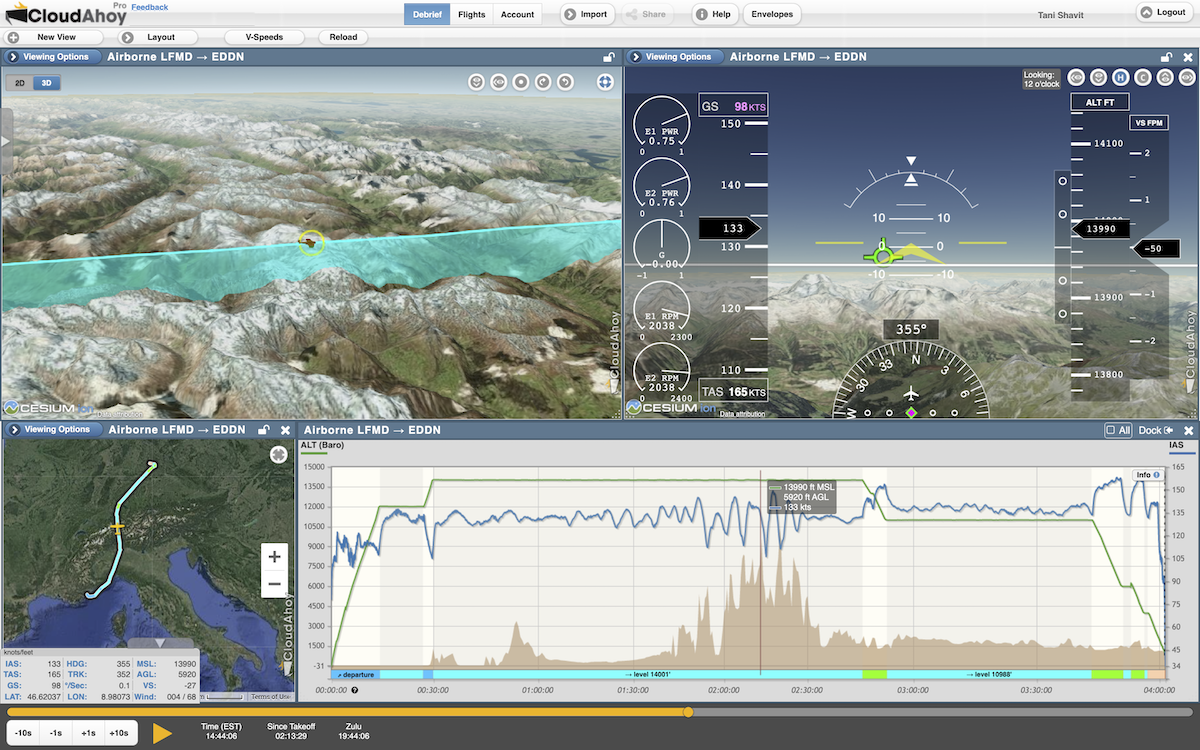 ---
Over Grand Canyon in a simulator
Aircraft: SR22 (in a simulator)

Flight data:  X-Plane

Pilot: Seth Richards
"After developing the display of terrain in graphs, I wanted a cool flight I could use to demo the feature to the CloudAhoy Team.  I fired up X-Plane and flew an SR22 from KGCN across the Grand Canyon and back."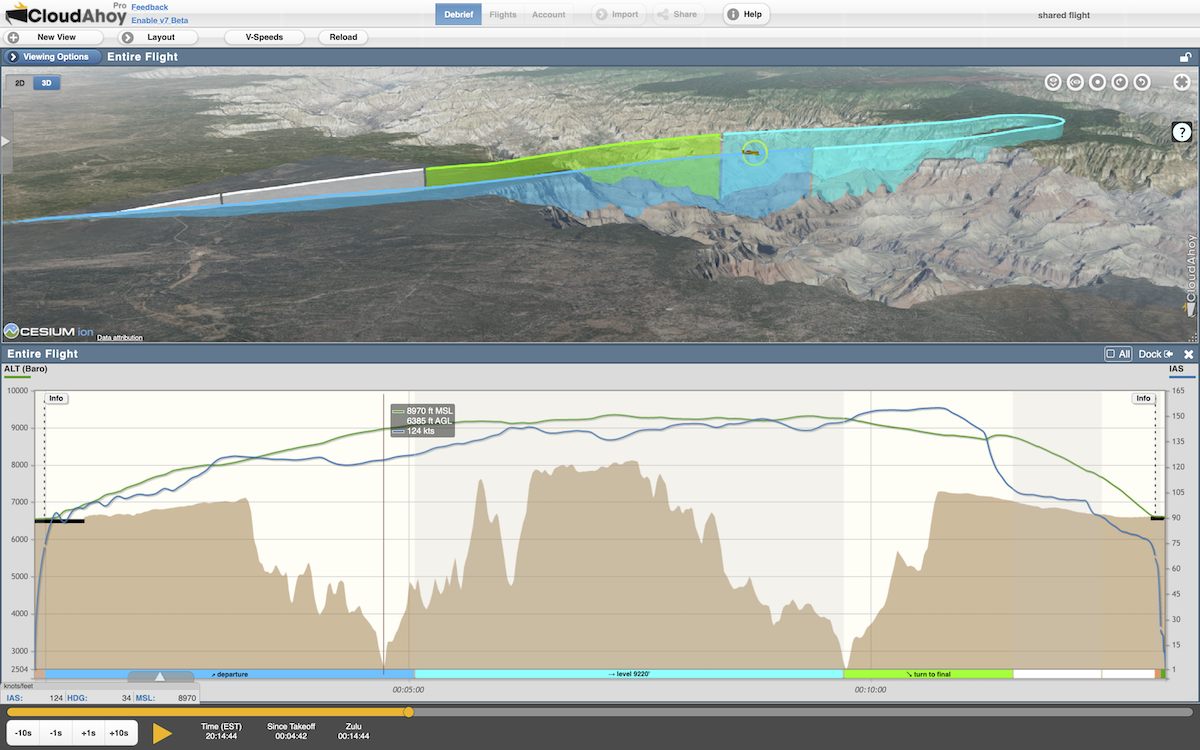 ---
Traffic Pattern
Aircraft: C182

Flight data: G1000

Pilot: Chuck Shavit
"I was practicing traffic patterns at KORH. The approach to RWY 29 is always fun because the runway is on top of a hill and the valley before it makes the approach feel steeper than it actually is."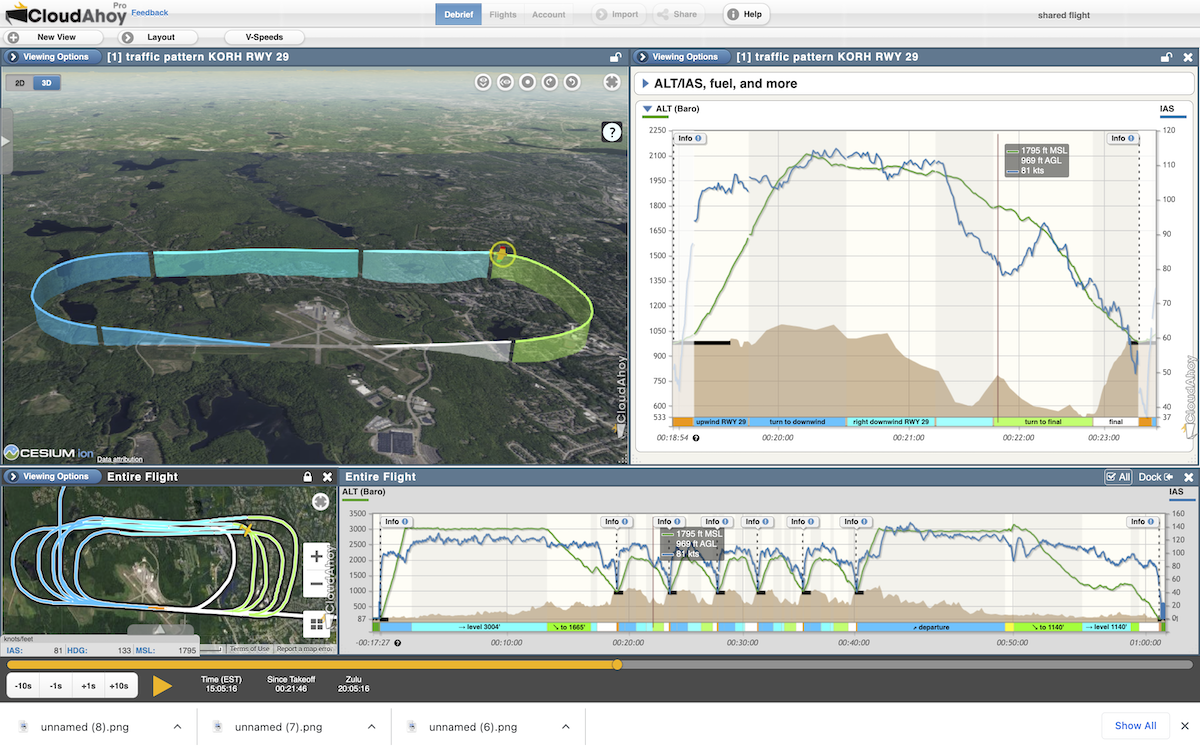 ---
Landing with dad
Aircraft: C182

Flight data:  Foreflight with Stratus

Pilot: Kate Matteson
"Took my Dad for a sightseeing flight last Spring and was happy to have a really nice landing 🙂 " 

---
Flying in Arizona
Aircraft: Beechcraft Sundowner

Flight data: ForeFlight with Stratus

Pilot: Chris Hufford
"How close was I to that mountain peak? 1386 AGL. From Marana, AZ to Safford, AZ for lunch."