We released a new feature: moving map in 3D Track view. When on, the aircraft is kept centered while the map or scenery moves during the animation.
(Note that this feature has been available for a long time in 2D Track view)
How to use
To set on: click or tap the Moving Map icon on the top right.

The view will be automatically adjusted so that the aircraft symbol is  positioned at the center of the view.
When you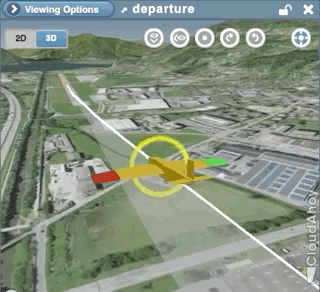 animate (click or tap the Play button), the aircraft symbol will be kept in the center of the view as the background moves around it.
While the moving map is on you can zoom in, zoom out, and change camera positions to move around the aircraft for different viewing angles. You rotate the camera position by dragging the mouse (or finger) right/left and up/down.
—
Below are a few examples showing how you can use this feature during a debrief.
Example – Crosswind Landing
The moving map helps to see clearly the crabbing, while landing with a crosswind.
Example – Instrument Approach
Using the moving map display to debrief this instrument approach, we can follow along the approach path and rotate the view to look at it from different angles. By rotating the camera around the aircraft, and by zooming in and out, you can see how the pilot intercepted the glide slope from below, and the accuracy of flying the glide slope and the localizer.
Example – Sim flight in a canyon (best in full-screen)
In this simulator flight debrief, we unchecked all the flight segments in the Segment Manager, so only the aircraft symbol is shown.


Example – Sightseeing in Alaska
This sightseeing flight was debriefed on an iPad, with the 3D Track View and Moving Map in the left pane.