We are excited to start the public beta of our new 3D Views, based on Cesium.
Why a new 3D? What is Cesium?
The initial trigger for the change was that our existing 3D is based on the Google Earth plugin, which is being phased out by Google (for the curious, read this ). The Google Earth plugin is already unsupported in Chrome, and will be discontinued by Google this December.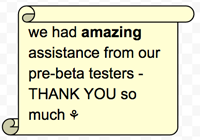 We started to look for an alternative, evaluated Cesium we realized that it has many advantages. We have been working on the integration for a few months now, with collaboration from the Cesium people – see our demo page on their website. It's a great team to work with.

What are the benefits?
The important advantages of Cesium over the Google Earth Plugin:
Runs everywhere:


–

– iPad – great news for many of you!


–

– Any computer, any browser:


—–

Windows, Mac and Android


—–

Chrome, IE, Firefox, Safari 
No plugin! No need to install anything, and the browser will not ask you to approve its use.

Issues?
The main caveat: it requires a relatively modern hardware. It will run nicely on a 2-year-old PC or Mac and on an iPad Air 2. If you have an old computer or an old iPad – regrettably, the new 3D will probably not run so well; we continue working with Cesium on performance improvements.
Another issue:  currently there are no 3D buildings.
Other than that – it works great!
The new 3D works great for us and for our pre-beta testers.
Bear in mind that it's a new technology, though, not as mature as the Google Earth plugin.
How to join the beta?
To start using the new 3D, click the ꩄbeta3D checkbox on the top-left on the screen.
If it does not work well for you, you can get off the beta and continue using 3D with the Google Earth plugin, or stay on the beta and use the 2D only.  And – IMPORTANT – let us know, please!
—
We are eagerly awaiting your feedback!
Tell us how it works for you – the good, the bad, and the odd.
Use email, or you can use the feedback link on the top-left of the screen. We always reply.