We started beta testing of our glass-cockpit-style gauges, and would like to invite you to try them.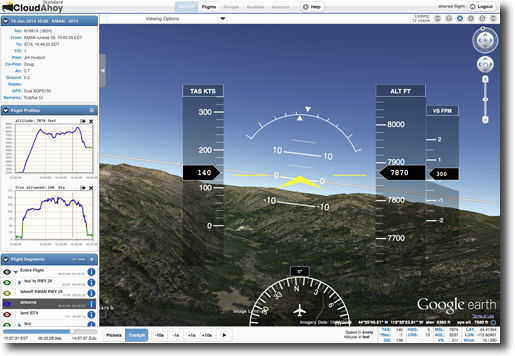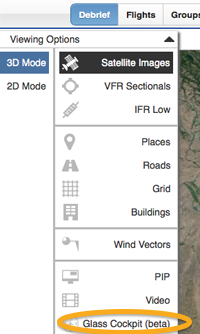 To add the gauges to your debrief, select Glass Cockpit from the Viewing Options menu.
Notes:
You do not need AHRS information to display the glass gauges. CloudAhoy displays calculated attitude, rather than the measured attitude.
You don't need to wait for your next flight; the glass gauges beta can be used when debriefing any of you past flights.
The gauges appear differently on different systems:
–  In 2D mode, and in 3D on the Mac, the gauges are displayed over the main window (A and C, below).
– In 3D on Windows, the gauges are shown in a resizable/movable window (B).
| | | |
| --- | --- | --- |
| | | |
|  A |  B |  C |
| 3D: Mac | 3D: Windows | 2D: iPad, Windows, Mac |
Our current implementation includes an airspeed tape, attitude indicator, altitude tape, vertical speed tape, and a heading indicator.
As always, your feedback is very welcomed.  Please let us know (info@CloudAhoy.com) how the gauges work for you.