A new addition to CloudAhoy – a comprehensive Help.  Click this to check it out.
We have collected our existing how-to articles, added many more, created some videos – and made it all accessible by clicking the Help button (see below).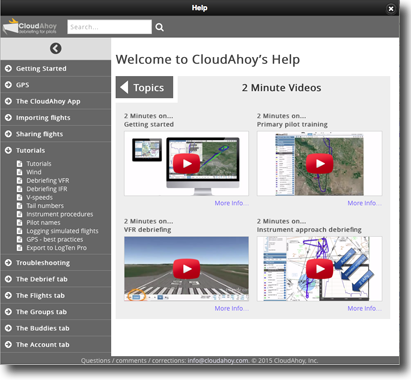 You will find  tips for an effective VFR and IFR flight debriefing, tips for using your GPS, information about importing flights from ForeFlight or from Garmin G1000, and much more.​
This is a work in progress. We plan to continue to add more information and tutorials. One of the insights we brought back with us from Oshkosh in August was the realization that many of our users were not aware of important existing capabilities. This central repository for tutorials and help is a direct result of that realization.
Sharing help topics: if you want to send a link to a specific help topic, or post it in your blog, use the

 button at the top of the page and copy the link.

Invoking the help from CloudAhoy (app and web): click the Help button located right of the tab list.
As always, your feedback is very welcomed.  Let us know (info@CloudAhoy.com) how this on-line help works for you, and send us your wish-list for improving and expanding it.