During the last year we have been focused on adding capabilities to CloudAhoy with an emphasis on safety.  The capabilities we've worked on include  automatically detecting unsafe moments in flights and analysis of aggregated data to identify trends.
The work is ongoing, and not yet released. We are working closely with our partners – flight schools, owners and operators – to create a valuable product that fits into their workflow. We are at the point that we can share some examples and what's coming next.

Safety events – Automatically Detected
Example – Unsafe base-to-final turn: The pilot overshot the turn to final, and corrected it by making a turn with a steep bank.

CloudAhoy detected the steep angle of the turn back to the final and annotated it in the debrief.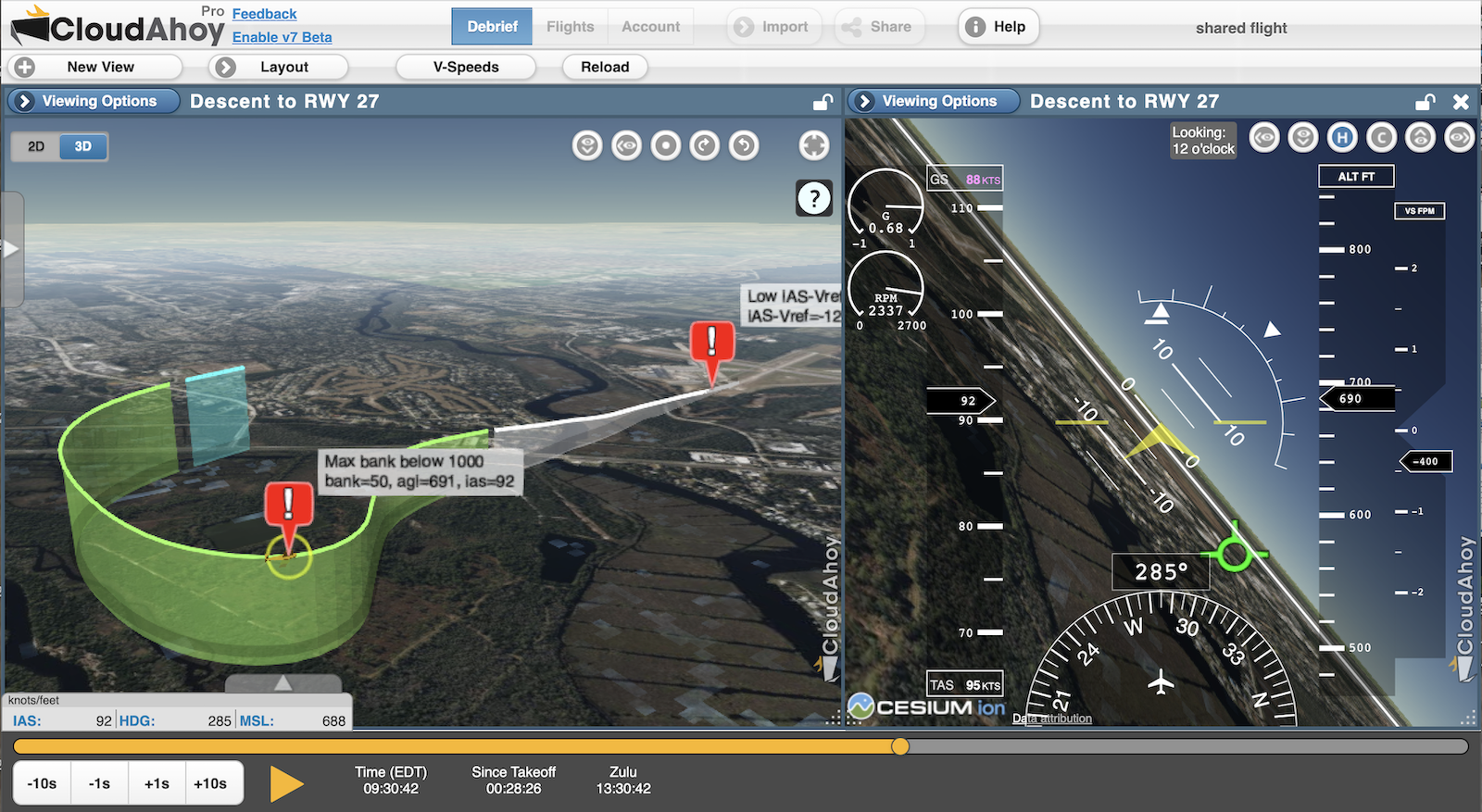 Example – Cause and effect: A pilot came in 16 knots too fast, landed long, and used almost the entire runway (and probably slammed on the brakes).

CloudAhoy detected 2 safety events: airspeed too high  at 50'AGL, and being too fast during rollout  approaching the end of the runway.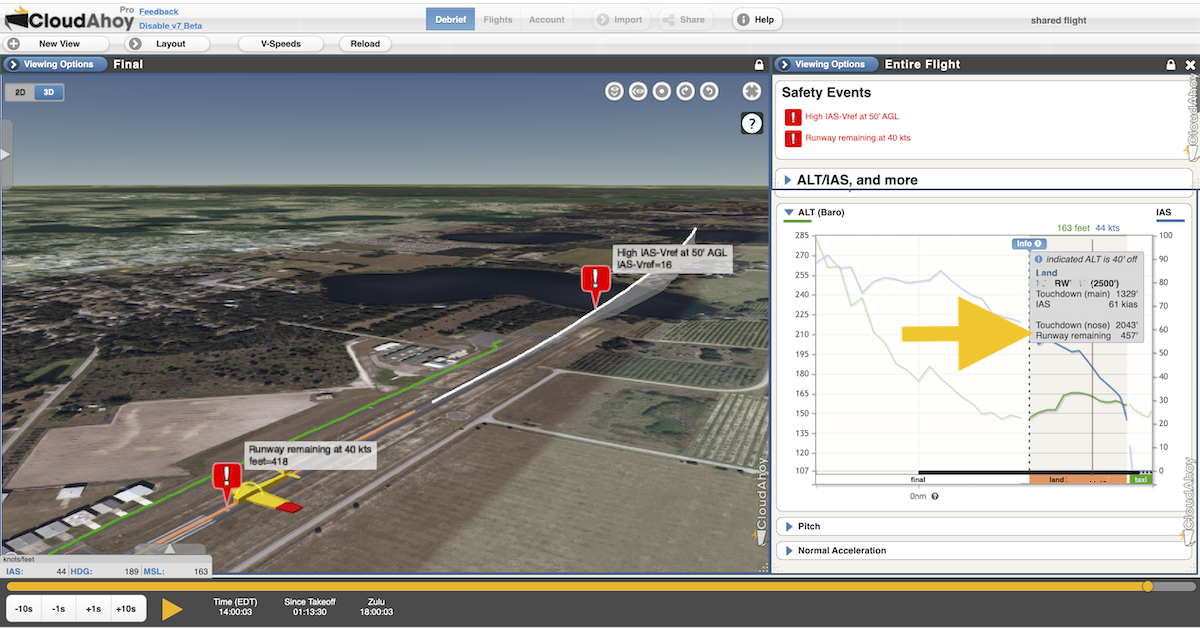 Example – Safety event and decision making: The pilot came in too high on final approach, then tried to correct with an excessive sink rate. The result was an unstable approach.

CloudAhoy detected a safety event: sink-rate too high at 515′ AGL and at 133′ AGL. The pilot decided to go around (the red segment) – which was the safe thing to do!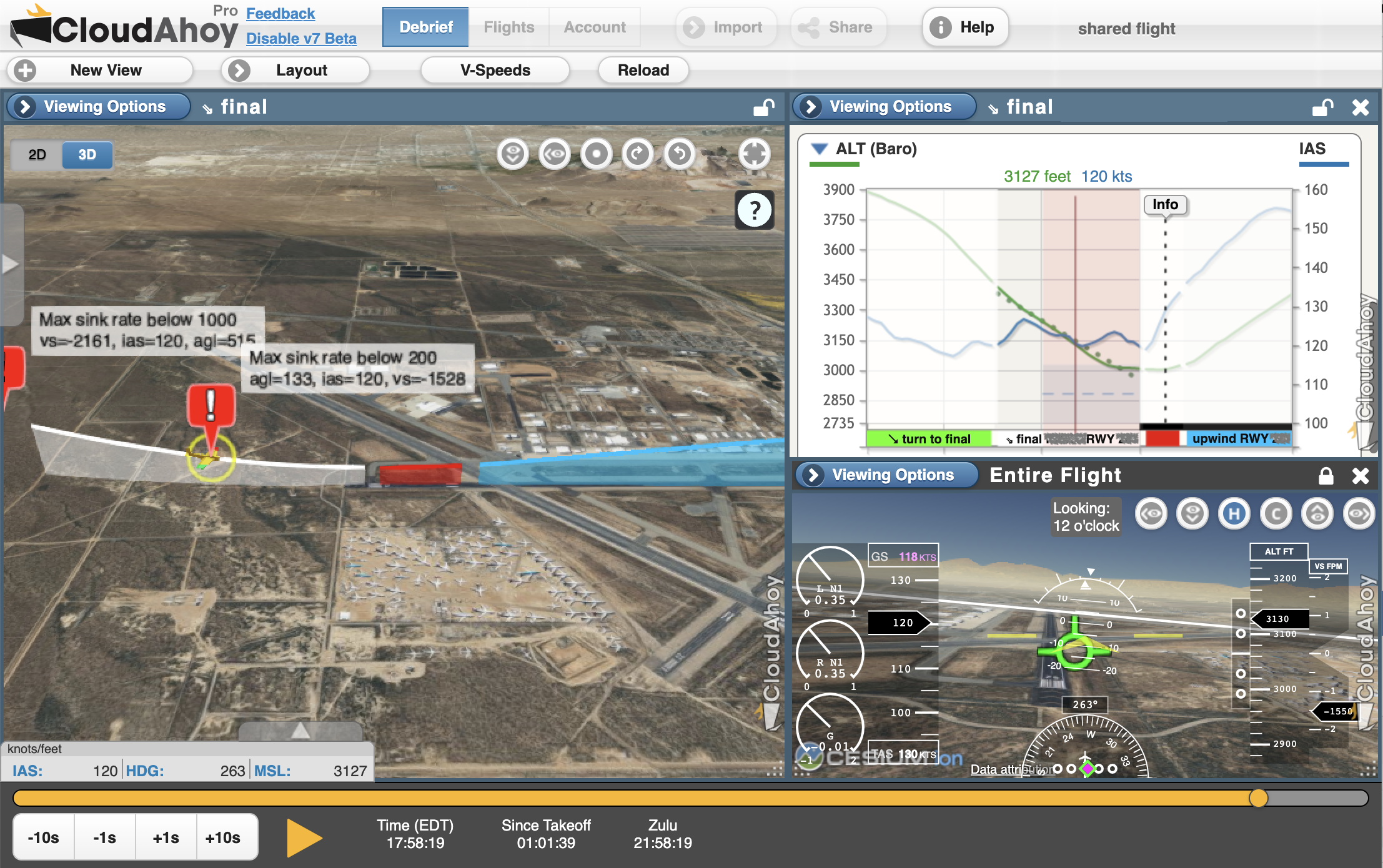 What General Aviation Can Learn from the Airlines about Safety
"You can't improve what you don't measure." [– Peter Drucker]
Over the past 20 years, the Airlines' accident and fatality rate had dropped significantly. One of the main contributing reasons for it is that the Airlines implemented safety programs – known as Flight Operations Quality Assurance (FOQA) and FDM (Flight Data Monitoring). The airlines implemented monitoring and measuring techniques to understand flight safety, and translated that into actions to improve safety, such as training and Standard Operations Procedures. As a result accidents and fatality rates dramatically decreased.  
Unfortunately, in General Aviation and in Business Aviation the accidents and fatality rates are stagnant.  We believe it's time to bring the techniques used by the airlines to every GA pilot – to save costs, and most importantly – life. Detection of safety events is a natural progression of CloudAhoy.
---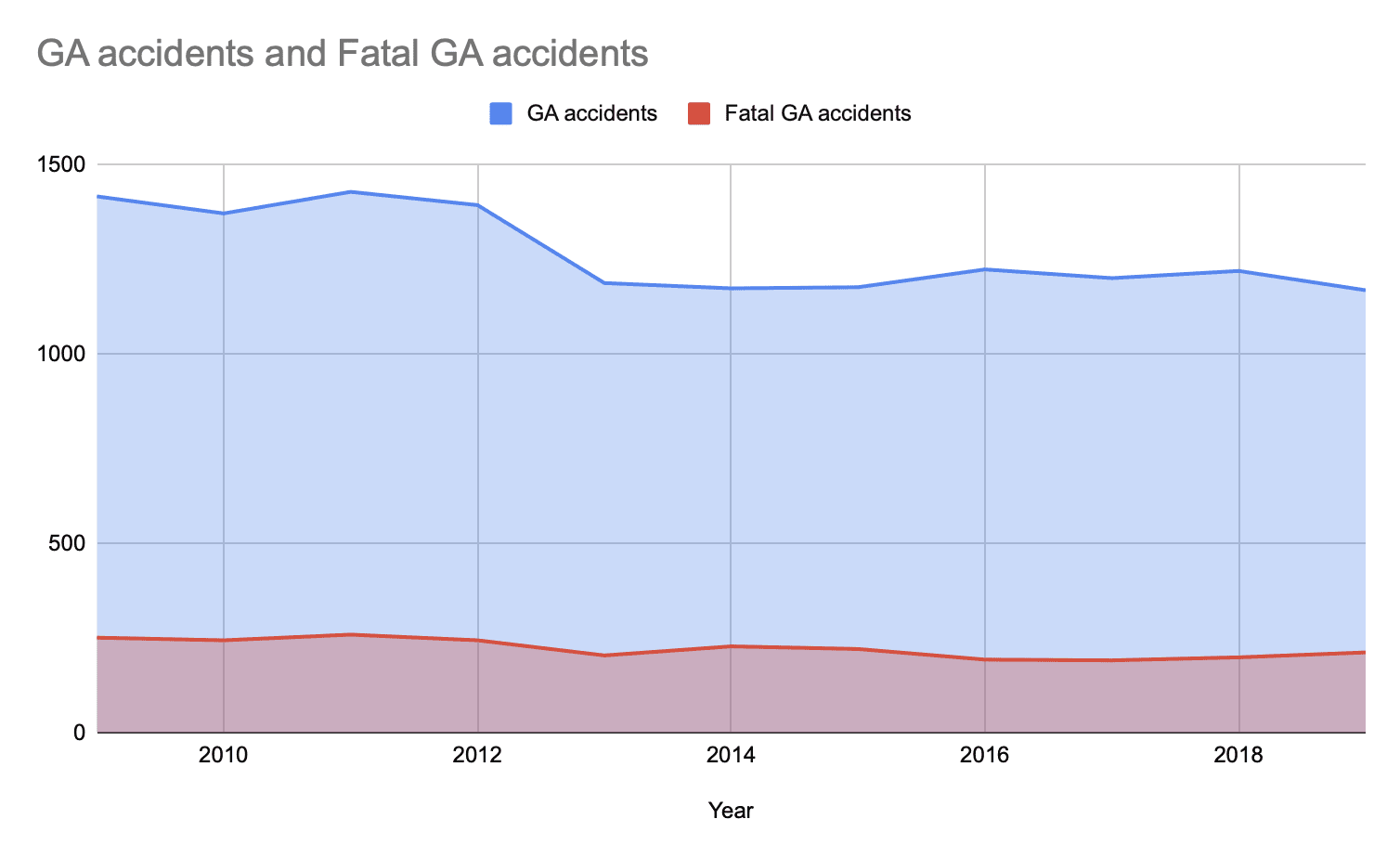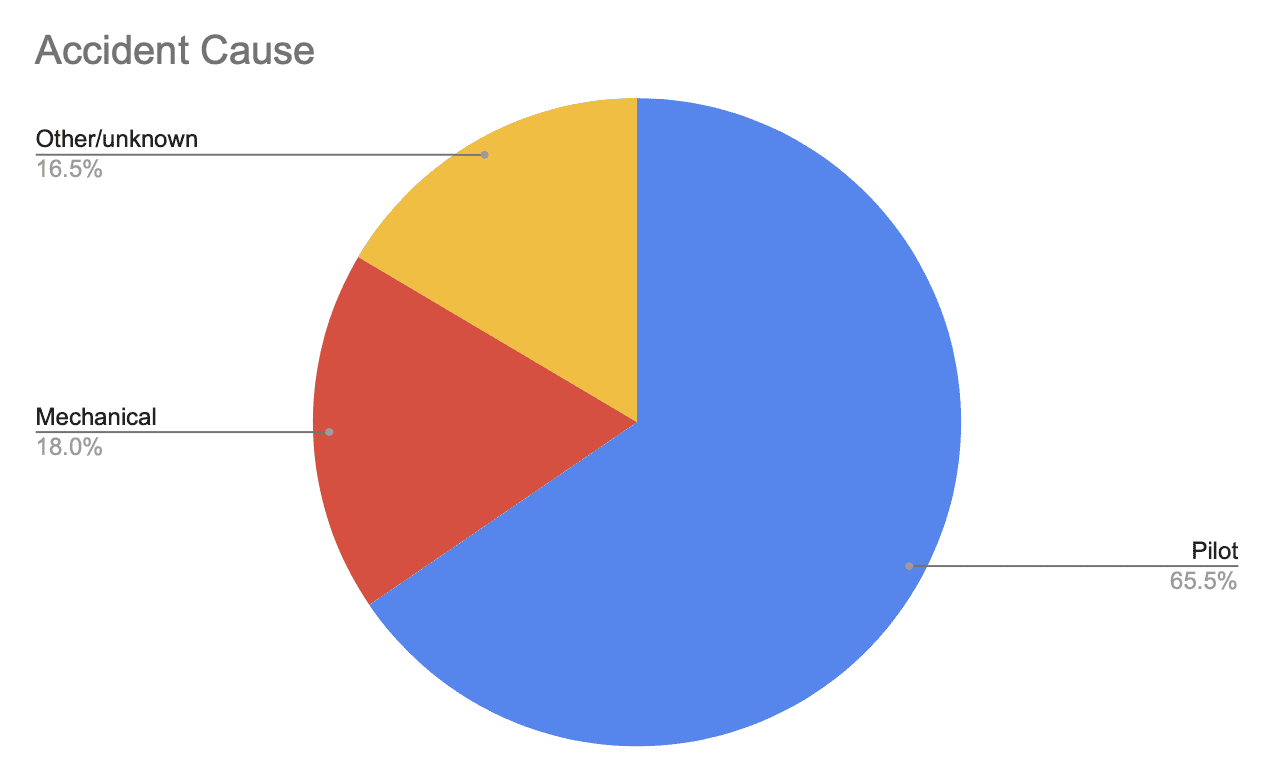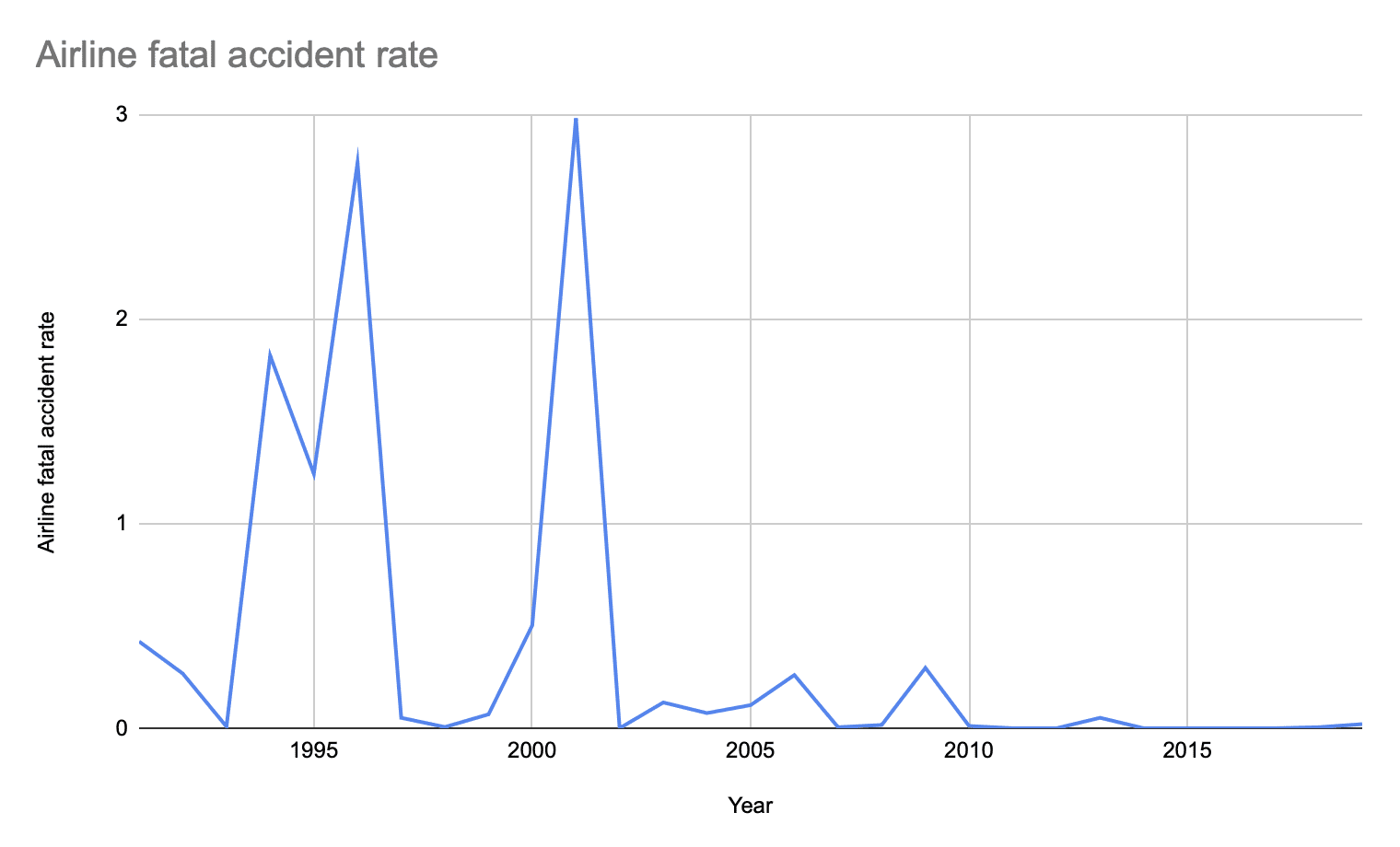 Source:  General aviation trends in charts—2021 update,
OCTOBER 4, 2021/ by JOHN ZIMMERMAN 
---
Looking at trends can be a good way to identify bad habits and unsafe behavior.  As an example, the following screenshot shows a CloudAhoy histogram of the approach speed across hundreds of flights during a certain time period. CloudAhoy compares the Indicated Airspeed in each approach to the desired speed (Vref). The vast majority of the approaches were safe, "in the green". Yellow and pink colors indicate flights that were too slow or too fast.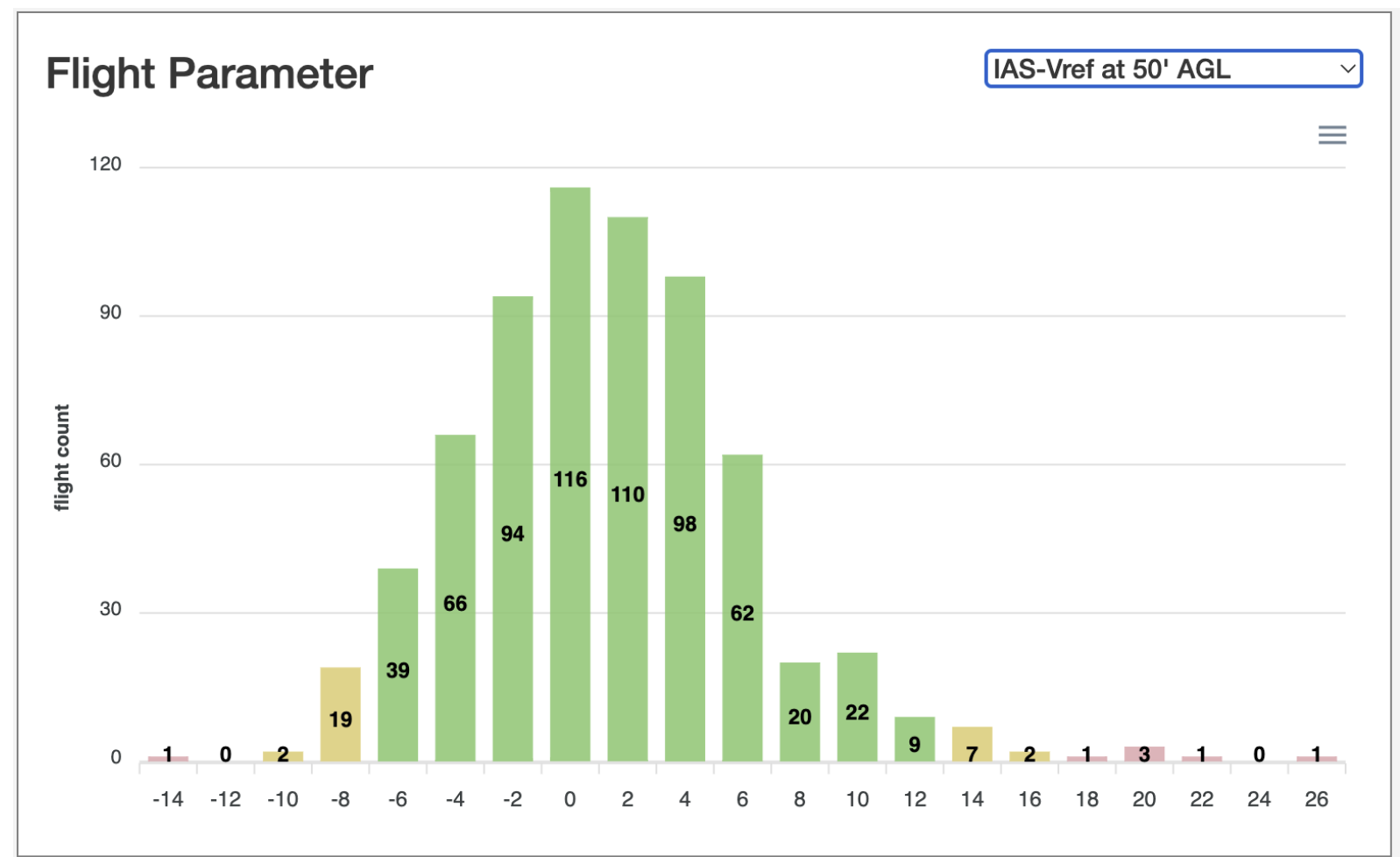 Introducing CloudAhoy P-FOQA / FDM
"P" is for Pilot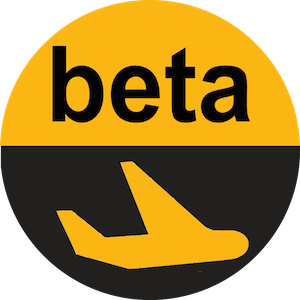 CloudAhoy's P-FOQA is pilot-centric (hence the "P").  
P-FOQA is tailored for General Aviation and is modeled after similar programs used by the airline industry. It is designed for business aviation, flight training, owners/operators, and fleet managers.  The safety events – such as described above – are automatically detected by CloudAhoy and presented on a dashboard. 

CloudAhoy's P-FOQA is using the same underlying technology as CloudAhoy's post-flight Debrief products, with the additional capability to identify safety events, to analyze and visualize aggregated data, and to notify pilots, safety personnel, and fleet managers of safety events. The integration with CloudAhoy Debrief provides an efficient way to identify the root cause of safety events, increase pilots' safety awareness, facilitate learning and improvements. This leads to becoming a better and safer pilot.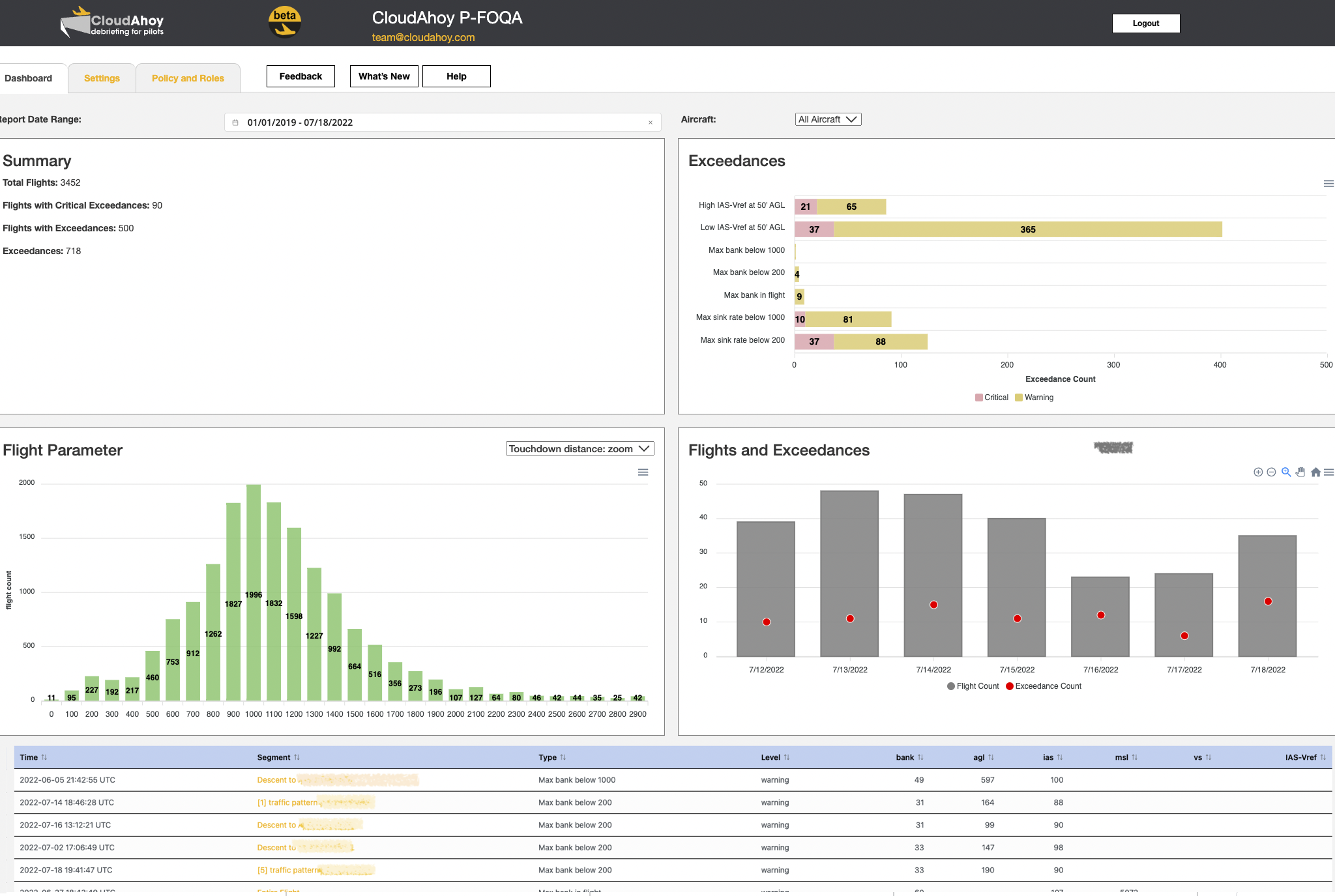 P-FOQA design goals:
Pilot centric  

Immediate reports and alerts

Secure and protecting privacy

Anonymized reports to designated safety personnel

Configurable and customizable
CloudAhoy P-FOQA is now in Beta, with a selected  group of customers. 
---
Stop by our booth to see more.