What makes an ILS approach a good one? The simple answer is – staying on the needle…
And how to score it? Well, that's not a simple matter. 
We made significant improvements to the scoring and to the visualization – so with a glance you can see immediately how good your ILS approach was.
At a Glance – The 1 Minute Debrief
Take a look at the ALT profile view and your overall score. Compare how closely your altitude track follows the solid black line of the glide slope and note that you've stayed within the bounds of the glideslope beam (the dotted black lines).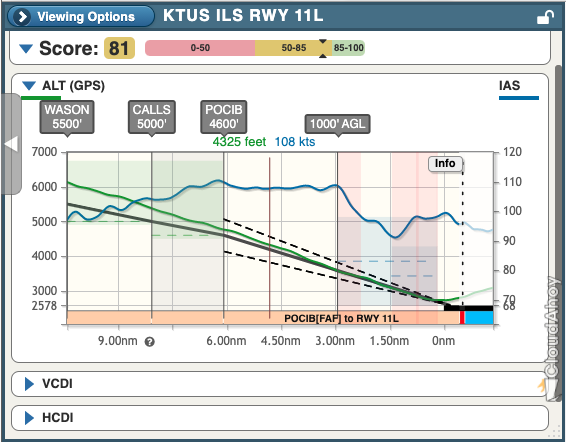 + We've just added the glide slope beam to the ALT segment information graph. Now it looks a lot like the profile view we are all used to!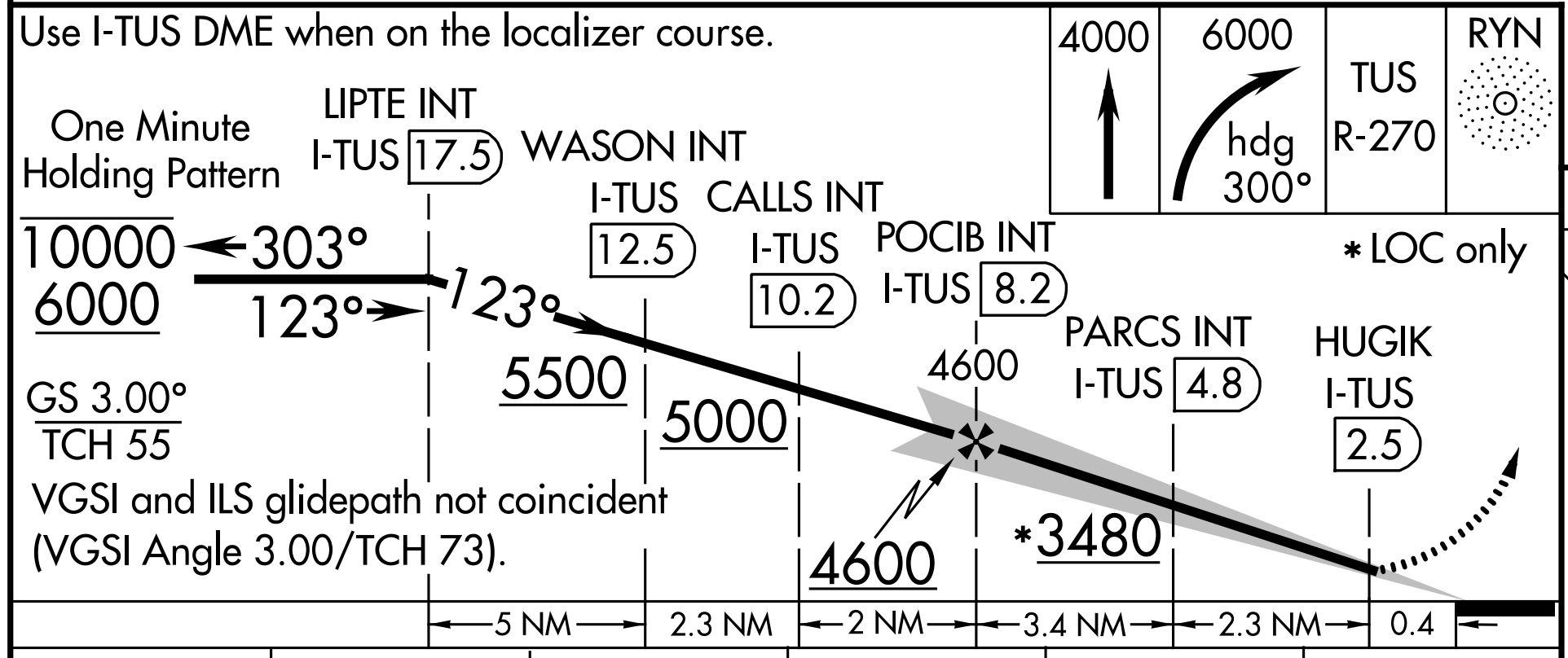 The 8 Minute Debrief
Using the Cockpit View you can animate and see the CDI. 
CloudAhoy computes "synthetic" CDI deflections (also new in this release). Of course if data is being imported from an EFIS such as a G1000, the CDI will be taken from the avionics rather than being computed.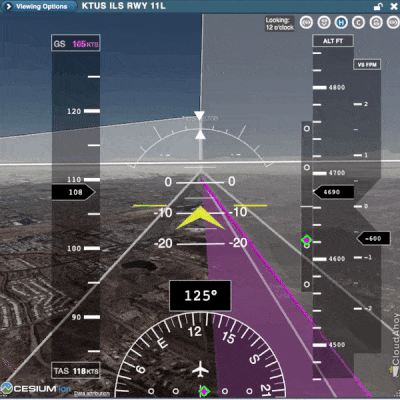 Scoring
We also enhanced the way the score is computed:  the scoring now takes into account glideslope & localizer accuracy, which makes the overall scoring more accurate.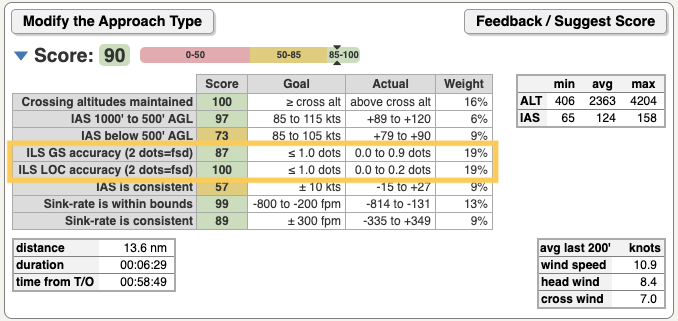 A good way to go deeper is to  take a look at what makes the score. How accurately did you track the localizer and glideslope? If you score well in those two areas, you likely flew a stabilized and consistent approach; good work. If you didn't score well, take a look at the rest of the score details for more insight.
Then, scroll down though the segment information; expand to see graphs of how accurate the glide slope is and see the horizontal and vertical CDI tracking. The shaded green area represents the goal range of + or – one dot (1/2 scale deflection).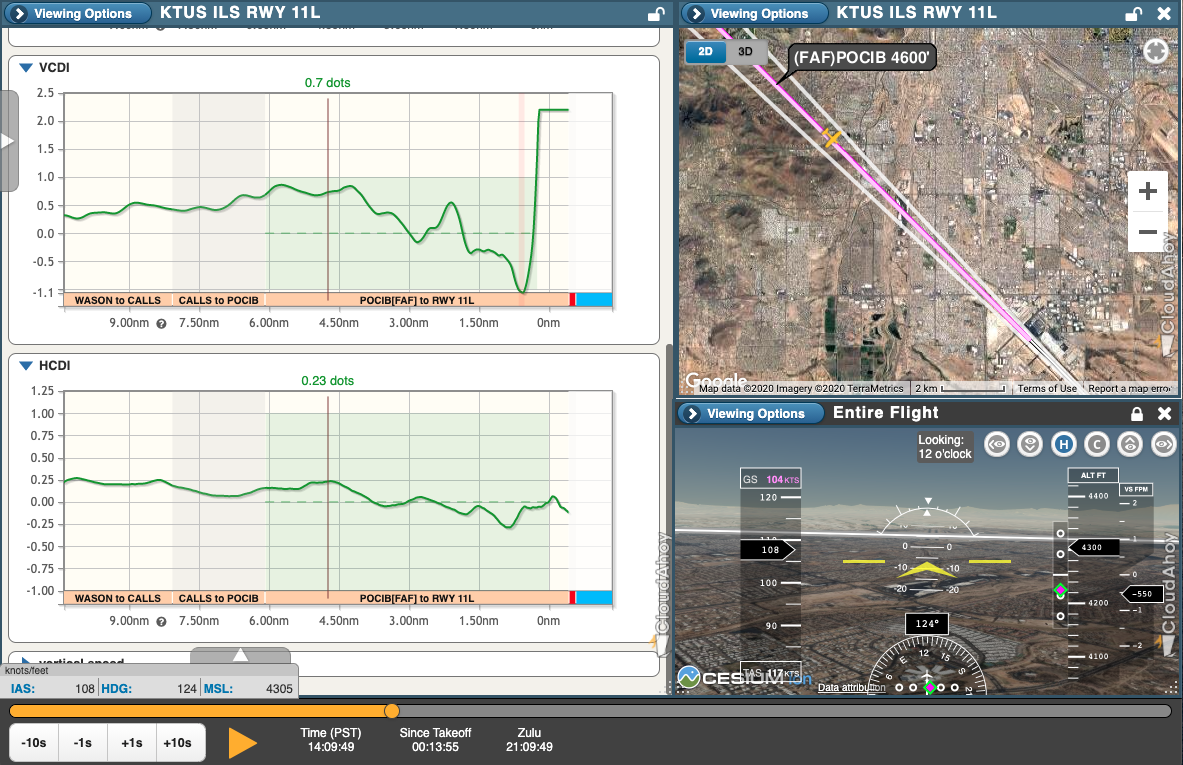 Understanding an ILS approach with full situational awareness will help any level pilot fly the next one better and more precisely.
* * *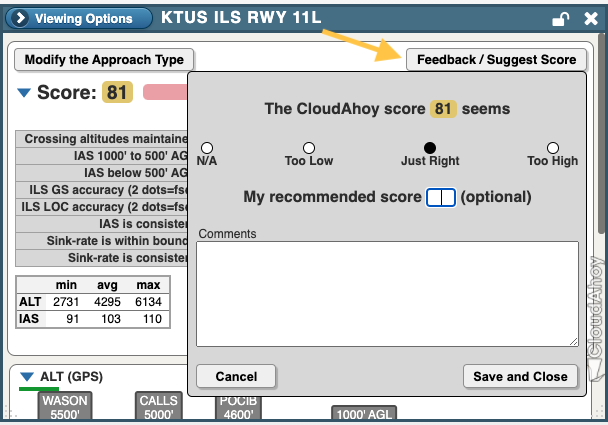 Available in CloudAhoy Pro.
These recents improvements were inspired by users' feedback (thank you).  Your feedback is always welcome, and is an important contribution to the on-going enhancements to the analysis and visualization.