Here is something that many of you have asked for: being able to view flights on the iPad in 3D using Google Earth. It is now available, as a B (Beta) feature.
A disclaimer: viewing flights in 3D on the iPad, while cool, does not yet have the functionality available when debriefing your flights on the web, using Windows or Mac (more…). Still, we hope you will find it useful. Your feedback is very much appreciated!
If you are not yet familiar with the CloudAhoy 3D debrief on the web, we recommend giving it a try by logging in to your account on a Windows or Mac machine. You may want to check 3D debriefing on the video in this page, e.g., starting 2:50 minutes into the video.
Getting started
To use this feature you need
– CloudAhoy app, 3.1, released January  2014. Upgrade if you have not done so already.
– Latest version Google Earth on your iPad.
Note that the Google Earth app works best on iPad 3 and above.
To view flights on the iPad select the "Debrief and More" tab.
Your flight track, in 3D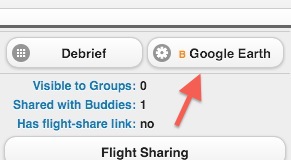 From the Flights tab, select a flight and tap the Google Earth button. Note the small B, indicating that this is a beta version.
CloudAhoy will popup Google Earth and zoom on a 3D display of the flight track, including the color coding of the flight's segments.
You can easily zoom, pan, rotate or tilt the view, to see specific aspects of the flight – check this link for more information.
Note: the CloudAhoy display on Google Earth display is cumulative: every tap on the Google Earth button adds the given flight to the display. Should you want to clear the display before displaying the next flight, force the Google Earth app to close (this explains how).
Cockpit view animation
While debriefing a specific flight in the Debrief tab, you can tap Cockpit. Note the small B here too – it's a beta feature.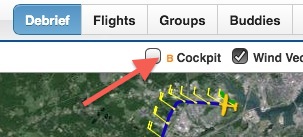 Tapping will display a cockpit view animation of the flight, starting from the current time (the time shown in the Timeline panel). For performance reasons, we limit the display to 10 minutes from the current time.
Note: when you bring up a flight debrief, CloudAhoy automatically sets the current time to the beginning of the first takeoff segment. Tapping Cockpit will therefore display your takeoff. If, for example, you want to see an animation of your landing,  move the slider to a minute before landing, and tap Cockpit.