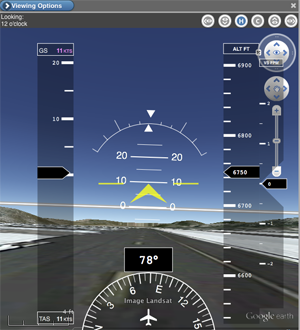 We collaborated with ForeFlight, and as of today we use the measured AHRS data (pitch & roll) as captured by Stratus 2 and 2S.
How do I import my Stratus AHRS data into CloudAhoy?
You need to download and import the KML file from your ForeFlight account on the web. See 2. Import from ForeFlight on the Web.
Note: if you import your ForeFlight flight track directly from ForeFlight's iPad app, AHRS data will not be included.
How does it affect my debrief?
When you display cockpit view, and when you display glass gauges, the measured pitch & roll are displayed.
The screenshot on the right shows cockpit view of a taxiing taildragger, with 10° pitch.
What if I don't have an AHRS?
Then we display the computed pitch and roll, like we always did. It's very close to the measured pitch & roll in most cases.
I imported data from an EFIS (like Garmin G1000). Which pitch & roll is displayed?
CloudAhoy will use the measured AHRS data from the EFIS. We support CSV file import from the following EFIS; click each link for instructions.
– Garmin G1000,
– Garmin G3X,
– GRT Avionics,
– Dynon Avionics.
Can I use the computed pitch & roll even if my flight data has AHRS data?
Yes: Account tab > Use AHRS Data if Available > Off.