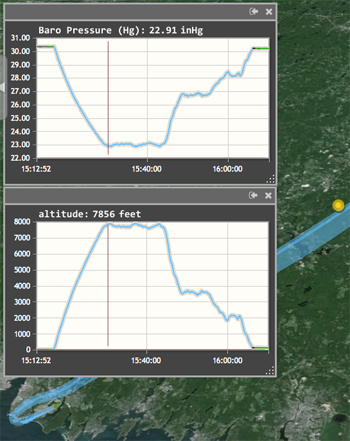 One of the benefits of using Bad Elf Pro+ is that it logs the barometric pressure – useful information especially if your cockpit is unpressurized.
If you log your flight with Bad Elf Pro+ and import the data to CloudAhoy, you can now include the barometric pressure in your flight debriefs.
The CloudAhoy screenshot on the right shows the barometric pressure in inches of mercury. It can also be displayed in millibars.
To display the barometric pressure,
Log the flight with Bad Elf Pro+. It's a convenient alternative to logging with your iOS or Android app.
After landing, download the flight's GPX file from the Bad Elf Pro+.
Import the GPX file to CloudAhoy.
Select "Barometric Pressure" from the profile menu; you can select the data in inHg or in millibars.