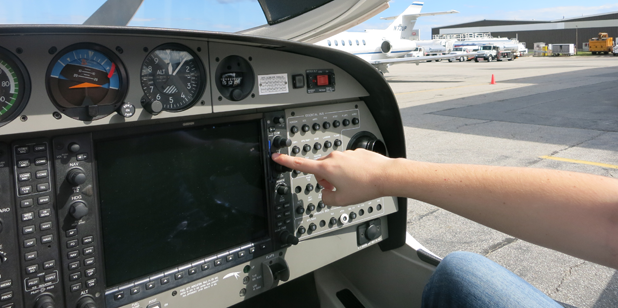 If your aircraft is equipped with Garmin G1000 avionics, you can now debrief your flights using high-quality flight data from the G1000.

The G1000 writes flight data into an SD card. To debrief the flight you need to import that data into CloudAhoy. This blog described how to do it.
Logging the flight
Important: please consult your aircraft's G1000 manual for details specific to your aircraft.
Before turning on the G1000 system, insert an SD card into the top slot in the MFD. If you are renting the aircraft, you would usually bring your own SD card. If there's already an SD card in the slot, consult with the plane's owner.
During flight, the G1000 automatically writes the flight data into your SD card.
After the flight, remove your SD card from the top slot of the MFD. You now have the flight data in the SD card.
Importing to CloudAhoy
Insert the SD card in a card reader connected to your desktop or laptop computer. The SD card's folder will appear on the desktop.
Open the folder. It would typically contain a data_log folder, and in it the flight file in CSV format.
Open a web browser and login to your CloudAhoy account.
Click the Flight Import button. An Enter the flight's pilot names, tail number and optional remarks (you can edit all these later), select the CSV file with the data, then click Import.
The flight now appears in your flight list, and is ready to be debriefed.
Debriefing
The rich G1000 data can be displayed using Flight Profiles. See G1000 flight data with CloudAhoy profiles.