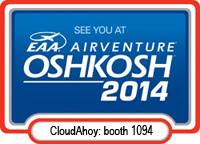 If you are coming to Oshkosh next week, this note is for you!
See you in booth 1094, hangar A
*
Presentation: Tues. July 29, 11:30 – 12:45, Forum 3
Personal tutorial: debrief YOUR flight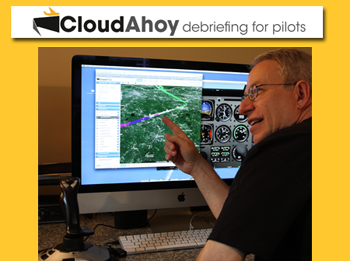 Would you like to get a personal tutorial of debriefing your flight with CloudAhoy?
• Log your flight to KOSH with CloudAhoy, then come to our booth and debrief your flight with us.
 or
• Come to our booth, use our X-Plane to fly a 5 minute simulated approach into KOSH (VFR or IFR), and debrief your approach with us.
Nate (CFII/MEI) and Chuck will be in the booth to debrief with you.
1-Month Gift Subscription

Every visitor to our booth will receive a gift of one month subscription to CloudAhoy Standard.
Have a CloudAhoy Free account?
You will get a CloudAhoy Standard for a month.
Already have a CloudAhoy Standard subscription?
You will get an extra one month.
You are within the 35 days trial of CloudAhoy Standard?
You will get an extra one month.
New to CloudAhoy?
Get an extra one month on top of the 35-days free trial.
To receive this gift, check in with one of us at our CloudAhoy booth.
See you in booth 1094, hangar A
Presentation: Tues. July 29, 11:30 – 12:45