This year I'm flying in to AirVenture 2013, for the first time as a PIC. With me  will be another person from CloudAhoy, Etan Rozin.
We would like to meet as many CloudAhoy users as possible!
When: Wednesday 7/31 and Thursday 8/1, 2:00 -3:30 PM,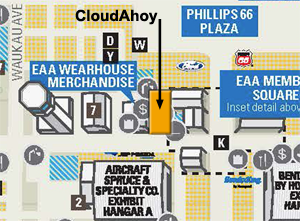 Where: International Marketplace South food court, K-12 on the map, located between the tower and the EAA Member Square.
Etan and I will be wearing CloudAhoy t-shirts with our cool new logo. What cool new logo? Stay tuned.
Drop me an email (chuck@CloudAhoy.com) if you're coming.
Looking forward to meeting you!
Chuck