[Lexington, MA] CloudAhoy is happy to announce the release of CloudAhoy P-FOQA™ ("P" is for Pilot), a pilot-centric Flight Operations Quality Assurance (FOQA) / Flight Data Monitoring (FDM) product for General Aviation. This release follows months of collaboration with early customers, and successfully addresses the needs of diverse types of General Aviation operations including flight training, owners/operators, charter, and fractional ownership.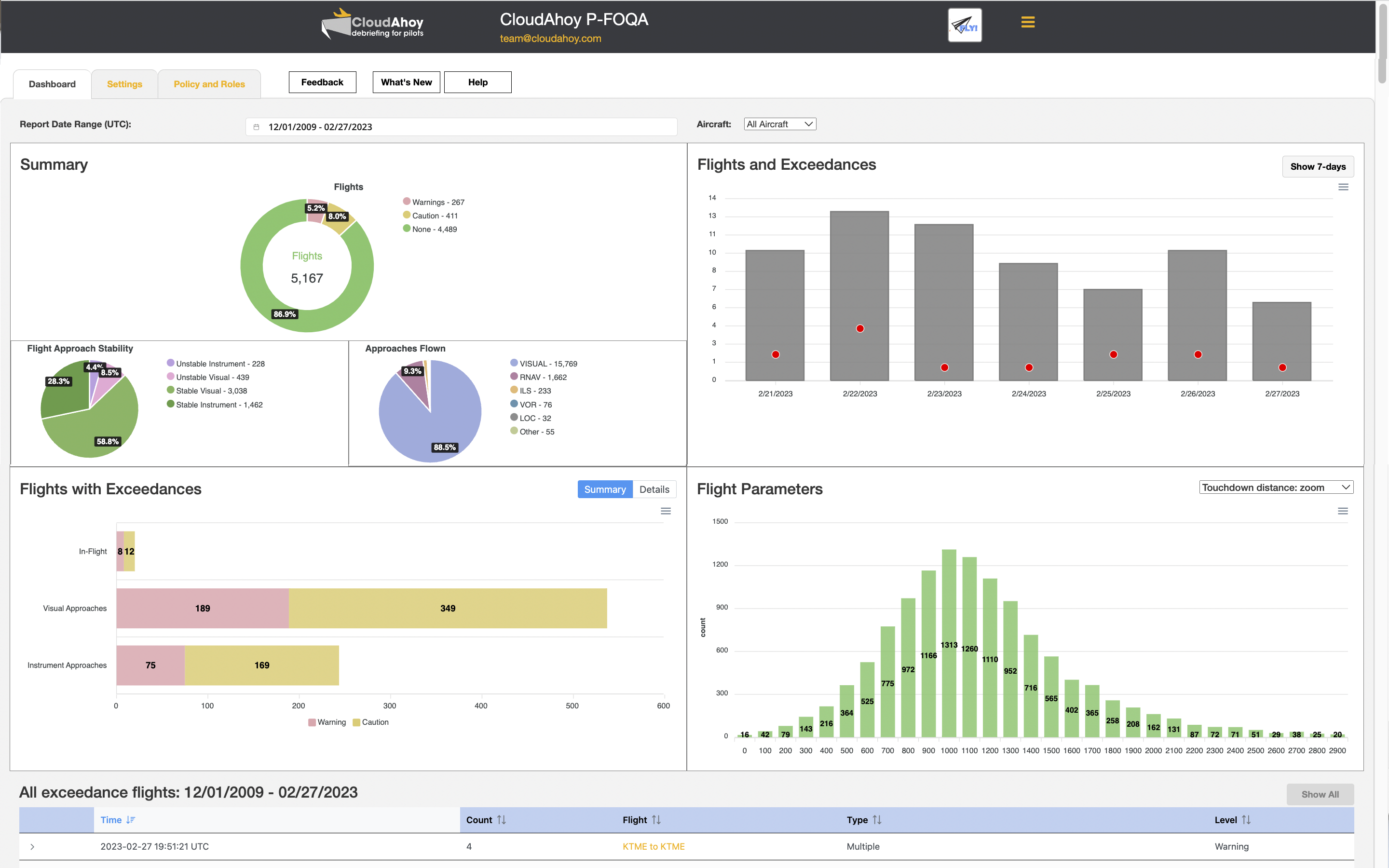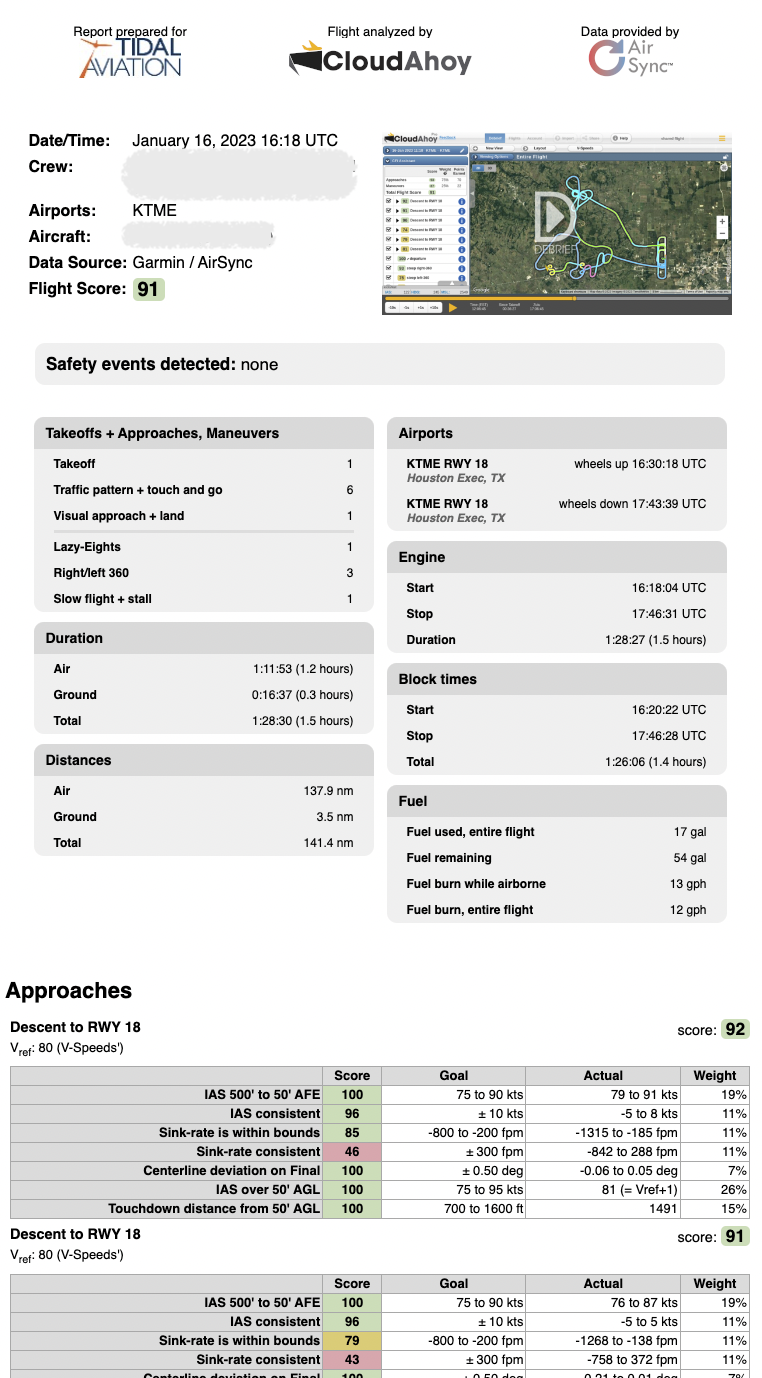 CloudAhoy's vision is to increase aviation safety by using data-driven post-flight analysis. "Airlines saw a spectacular decrease in accident and fatality rates over the last 20 years; FOQA programs were instrumental in achieving this. In contrast, the General Aviation accident rate is still too high." says Chuck Shavit, CloudAhoy's Founder and CEO. "We created a new FOQA product designed from the ground up to cater to the unique needs of General Aviation." 
CloudAhoy P-FOQA is pilot-centric, providing objective feedback to the pilot immediately after landing, including an optional post-flight email. At the organization level, flight safety personnel and leadership can use P-FOQA's dashboard, updated in real time, for an overall view to monitor trends and adherence to safety standards and SOPs. They may elect to receive automatic alerts upon detection of possible safety events. 
P-FOQA is built on the same underlying analysis technology as CloudAhoy's post-flight debrief, which has been developed for over a decade. This mature and robust technology has been enhanced for efficient data aggregation, providing a natural path between P-FOQA and debrief, thus between aggregated data and diving down into details of a flight for learning and investigating.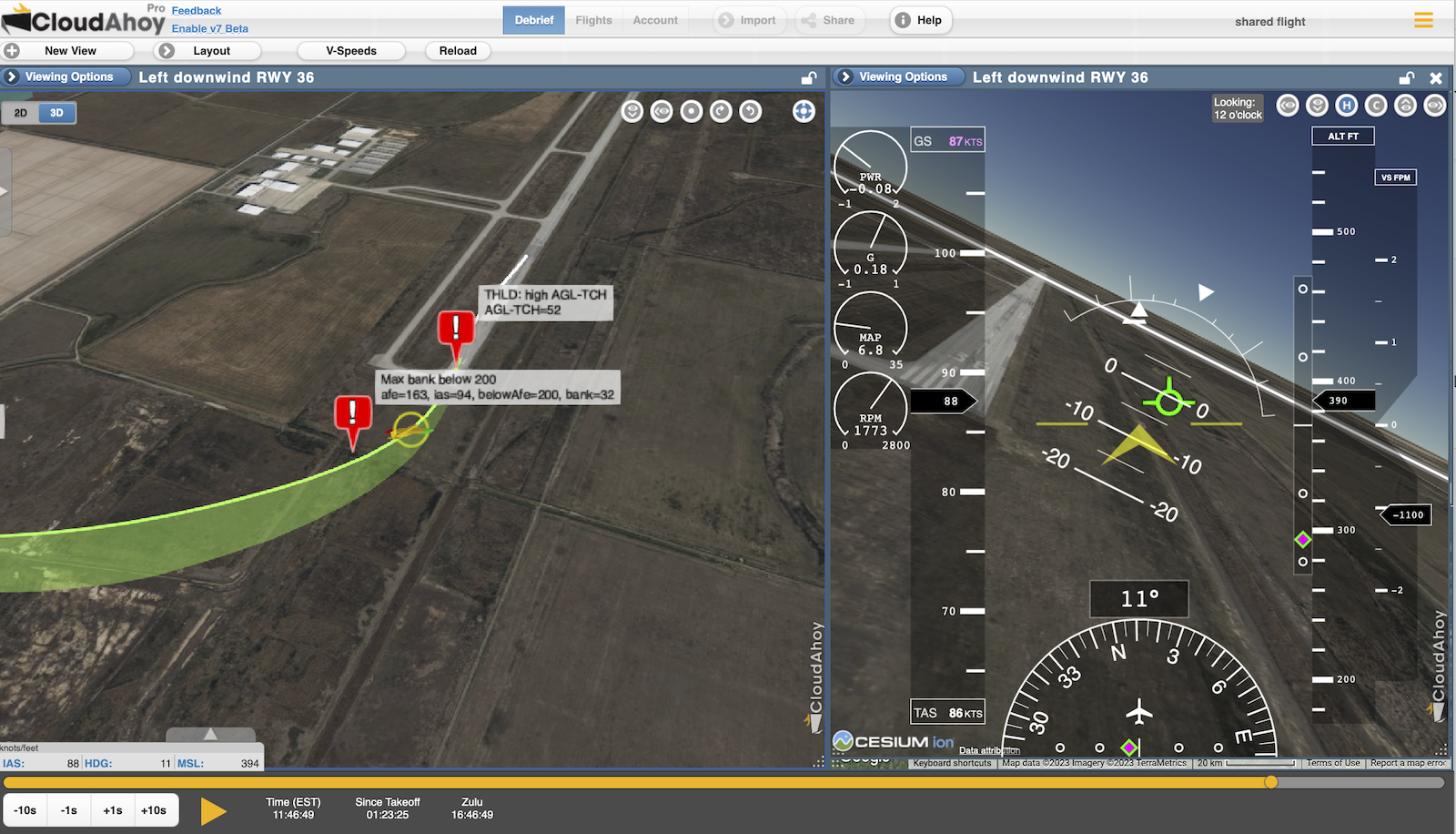 Over the past year CloudAhoy worked with select customers who formed a P-FOQA Steering Group: Citation Jet Pilots Association (CJP),  Embry-Riddle Aeronautical University's (ERAU) College of Aviation at Daytona Beach FL, Tidal Aviation, Air Charter Safety Foundation (ACSF), Jet It, and United Aviate Academy. The product we are releasing has been used (in beta) since June 2022, and reflects the experience, insight, and wisdom of these industry leaders. 
P-FOQA is highly configurable. Security and privacy are carefully managed. Flight data is anonymized; organizations can authorize specific people to access detailed information about the flights, customizing parameters to fit the organization's needs and Standard Operating Procedures (SOPs). Easy customization enables adjusting to the needs, level of experience, and type of aircraft. 
For data acquisition, CloudAhoy partners with a growing number of cost-effective providers to enable automatic upload of rich and accurate flight data immediately after a flight.
CloudAhoy P-FOQA is affordable, making it a practical solution for any organization. "It is extremely satisfying to see how each organization is adapting it to their own needs," says Chuck Shavit. "P-FOQA is intuitive to use. I believe that we created a product valuable for experienced pilots of high performance aircraft, beginner student pilots, and all the levels in between." Helping pilots fly better and safer has been the fuel driving CloudAhoy from inception.
From the P-FOQA Steering Group: 
Citation Jet Pilots Association (CJP), (link) – an owner pilot association of Textron Aviation Citation aircraft  
Charlie Precourt, CJP Safety Committee Chair and four-time NASA space shuttle astronaut: 
"CJP's Safety and Education Foundation has been striving to bring the tremendous success of airline FOQA to the single pilot in business aircraft. Working with CloudAhoy, we have been able to create a CJP-FOQA℠ program, allowing each pilot to benefit from the group trends while also tracking their own flight outcomes for continuous improvement and safety, a first of its kind capability in the FOQA world."
ERAU College of Aviation at Daytona Beach, FL, (link) the world's largest, most comprehensive institution specializing in aviation, aviation business, aerospace, engineering and STEM-related degree programs
Bob Joyce, Director of Aviation Safety: 
 "…Flight data acquisition, analysis, and visualization are vital components of our IS-BAO Stage 3 registered safety management system…" 
Paul Cairns, Assistant Chief Flight Instructor: 
"The CloudAhoy P-FOQA provides an easy way to identify performance trends from aggregate flight data for validating training and standardization effectiveness."
Tidal Aviation, (link) – a partner of Cirrus Aircraft as a Platinum Training and Service Center, based in Houston 
Reid Nelson, President: 
"CloudAhoy has been a powerful tool in our toolbox for years, but P-FOQA has become a clear game-changing advantage for us."
Jim Ratliff, Chief Instructor: 
"We have been able to rethink our own training process…The AI has enabled us to, in literally minutes, do what takes even large organized flight schools dozens of labor hours per week to do." 
Air Charter Safety Foundation (ACSF), (link) – a non-profit organization dedicated to leading and supporting the advancement of the highest aviation safety standards for business, charter and fractional ownership 
Bryan Burns, President:
"For a long time, FDM programs have been accessible mostly to medium-to-large cabin aircraft operators…Now we can provide the benefits of FDM at a much lower cost point."
Jet It, (link) – a private aviation company dedicated to providing more time and value to owners with their days-based fractional-ownership model
Jason Greenleaf, Director of Safety: 
"There's real value in being able to visualize our flight crew performance and trends in the aggregate while simultaneously providing our pilots a detailed flight debrief so they can continuously refine their skills."
United Aviate Academy, (link) – a flight training academy owned by United Airlines addressing the pilot shortage and aiming to diversify the pilot population
Ray Vester, Director, Safety, Security and Compliance: 
"P-FOQA is a powerful tool for examining our training flights, performing flight safety investigations and analyzing aircraft maintenance events."  
---
About CloudAhoy: 
CloudAhoy's mission is to increase aviation safety and enhance pilots' proficiency through data-driven flight analysis. CloudAhoy's debrief product is used by thousands of pilots, students, and instructors, as well as the military. In 2022 CloudAhoy introduced a Flight Operations Quality Assurance product  – P-FOQA. P-FOQA ("P" is for Pilot) is pilot-centric, and targeted at General Aviation, including flight training. CloudAhoy is a leader in post-flight analysis and debriefing.  www.cloudahoy.com/p-foqa
Additional information about data acquisition: 
AirSync: https://www.air-sync.com/
Textron LinxUs FDM: https://txtav.com/service/linxus-fdm