We enhanced the flight profile display in the Debrief tab; it is now possible to:
– undock a profile, move it and resize it,
– drag the crosshair to move the timeline.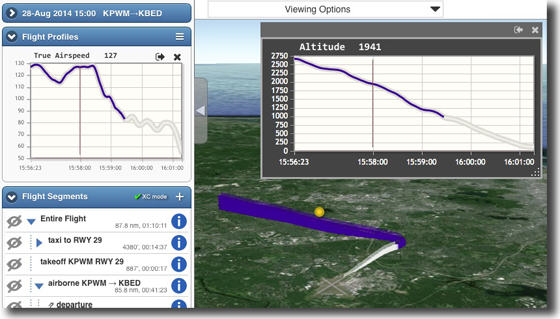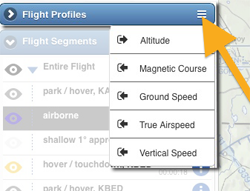 To display a profile, click (or tap) the

 menu icon
in the Flight Profiles bar, and select the profile from the list.
Profiles: undock and dock
Initially a profile is displayed in the Flight Profiles section. This is called docked state. You can undock a profile by clicking the undocking icon

.
Once undocked, a profile can be moved and resized – see the illustration below. You can also dock it back in the Flight Profiles by clicking the docking icon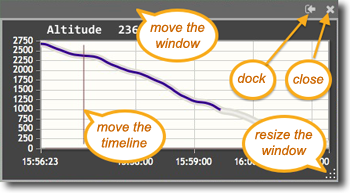 To close a profile, click its X icon on the upper right, or unselect it from the menu.
Drag the crosshair to move the timeline
Each profile has a vertical line to show the current time. You can drag the line to move the current time, which is exactly equivalent to moving the timeline's slider – but allows for better accuracy.
Persistence
If you are the flight's owner (i.e., one of the pilots), each profile's size and location is saved, and will be restored the next time you debrief the flight.
BTW, we now also save segment information windows 

, and the PIP window.
Example
The screenshot on top was obtained by analyzing the flight in XC mode (click the 

 button in the Flight Segments bar), selecting only the Approach and Final segments (see here about segments isolation) and displaying airspeed in docked state and altitude in undocked. Such a display can help in debriefing how stabilized the approach was.