In general, the transition of CloudAhoy users to iOS 7 has been smooth.
However, there is a setting in iOS 7, called Background App Refresh, which can hurt CloudAhoy's logging.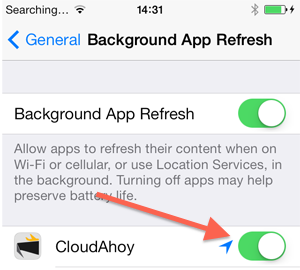 Symptom: you get nice green GPS lights after tapping START, but sometime later during the flight the logging stops.
Reason: For CloudAhoy to log flights while working in the background, Background App Refresh must be enabled for the CloudAhoy app.
Solution: Please check the settings on your iPhone and/or iPad.
In iOS's Settings , go to
    General > Background App Refresh
To allow CloudAhoy to log your flights in the background, the switch for CloudAhoy must be On (green).